ACCOMMODATION
The spirit of Kulu is to tread lightly, leaving a minimal footprint on the natural ecology of our wilderness home. Our Kulu Safaris Campsite in Yala is made up of 4 spacious tented units that can be easily disassembled if needed., We strive to offer the most comfortable accommodation with touches of luxury for the comfort of our guests. Our campsite here in Yala was handpicked for its remoteness, beauty and proximity to Sri Lanka's premier national park - 'Ruhunu' or Yala National Park. Thanks to our strategic position bordering the magnificent "Kocchipathana village lake (tank), our campsite abounds with local wildlife and is a paradise for wildlife lovers and birders of all ages.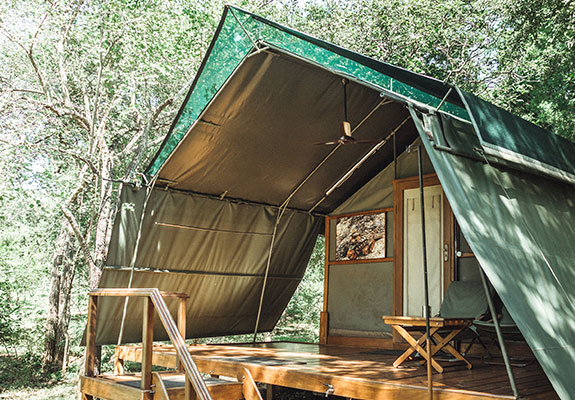 Unpretentious luxury
Our tents have been custom-built in South Africa by one of the world's leading safari outfitters. Our Base Camp in Yala offers large tents (each tent is over 200 sq. ft.) that are secured on raised wooden platforms. We have 3 Double Tents which can accommodate upto 3 adults and 1 larger Family Tent which sleeps up to 4 people. The tents are situated away from each other for maximum privacy and each tent features a small outdoor deck (or 'veranda' as we like to call it) which is the perfect place to sip an evening drink, or to relax with a good book. The tents feature en-suite bathrooms with hot and cold showers. The tents are fully sealed against creepy-crawlies and the fly screens support excellent ventilation while keeping out pesky critters.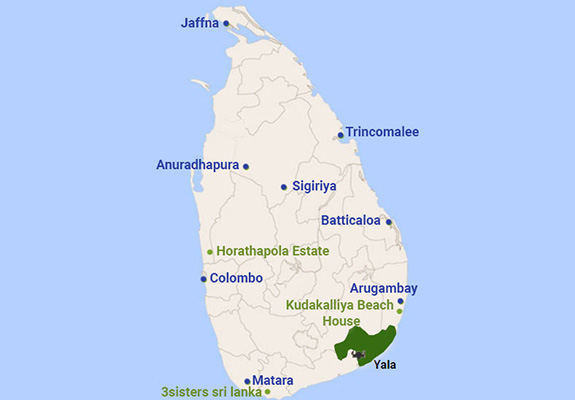 Convenient location
Kulu's Yala camp is ideally situated to explore the multiple sectors (referred to locally as 'blocks') of Yala National Park, and we run the majority of our safaris in Block 1 and 5. However, for guests staying 3 or more nights, we visit Block 3, 4 and Lunugamvehera National Park.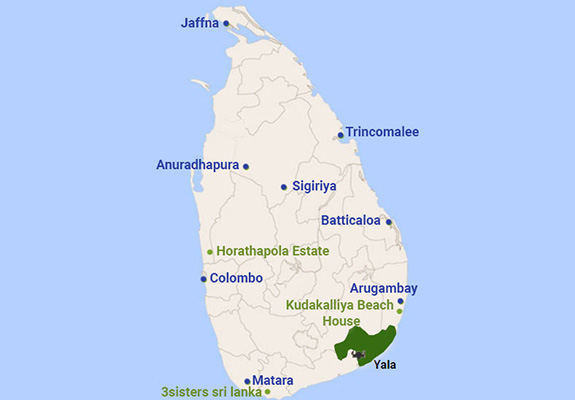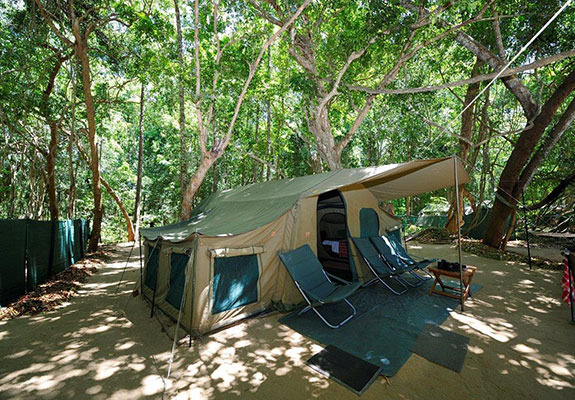 Mobile camping
We also offer a mobile safari option, for tailor-made camping experiences to suit specific client requests. Although these tents are smaller, they are comfortable, cool, and well equipped. Often, we deploy these tents to host our Wildlife Documentary clients, who need to be more agile when filming wildlife in remote parts of the island. The mobile option is also popular among adventurous groups seeking a unique and customized 'off the beaten track' experience.