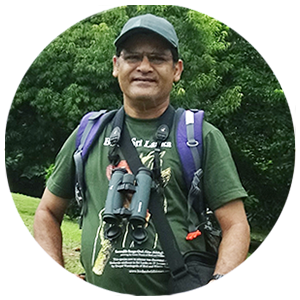 Your chance to go birding with one of the best in the field
Lester has been a nature lover from childhood and is a fanatical birder. He is a reputed bird artist and is one of the most experienced birders and naturalists in Sri Lanka. He has extensively bird watched throughout India from the south to the north (Ladakh), Rajasthan to Tinsukia in Assam and the Andaman Islands as well. His incessant search for bird species in the region takes him regularly to various destinations in India's lesser known wild places, and also been to Thailand, Maldives and Taiwan on two occasions searching for more Asian bird species. His present interest is mainly on pelagic birds in the Northern Indian Ocean. He has been a professional birder for over 17 years, leading tours In Sri Lanka and India including the Andaman Islands as well.

As a devoted wildlife sound recordist, his collection of Indian bird sounds alone exceeds over 400 species, recordings of rare and not so common bird from all over India. Some of his recordings of Indian birds are included in e-Book of Helm Field Guides: Birds of the Indian Subcontinent (2012).
He is a member of the Rarities and Records Committee of the Ceylon Bird Club apart from being a member in many other reputed nature and conservation oriented societies and clubs.
Sri Lanka - a paradise for birders
Sri Lanka's diverse geographic locations and environments which range from wet, dry zone, forest and jungle, hill country and low lands are a haven for birdlife both resident and migrant; some of which are restricted to certain areas while many others can be seen throughout the island.
Sri Lanka is a year-round bird watchers' paradise, attracting hundreds of species of avifauna.
Of the island's 427 recorded species, resident birds amount to approximately 250 while endemic birds number at 33. Guests at Kulu Safaris Camp in Yala will be thrilled to know that no less than 92 species of birds have been recorded, right here on our property!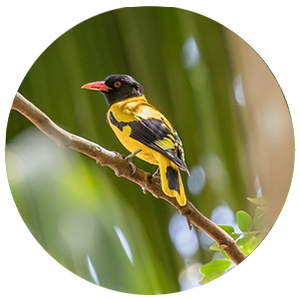 Best time for birding

The island's two distinct monsoon seasons, hilly interior and various wet and dry zones means there is plenty of birdlife to satisfy birders year-round. Fir best weather, the ideal time to visit for birding remains between November and March, when migrant birds arrive.
Around mid-August is when the first migratory species are believed to arrive in Sri Lanka in large flocks flying from as far as Scandinavia and Western Europe to settle along the eastern, north-western and south-eastern coasts.The month of December has been declared as National Bird Month by Sri Lanka's Field Ornithology Group, the national affiliate of Bird Life International.

What Bird and Where?

Storks, herons, egrets, spoonbills and pelicans, the Ceylon flycatcher, Green beater, eagles, herons and woodpeckers are just a handful of the birds that flock to Sri Lanka.
These feathered friends are seen in just about every corner of the island; the highest densities however hang out in and around sanctuaries spread throughout the island, namely Kumana National Park, the Kalametiya Bird Sanctuary and Udawatte Kele.
Book Now:

safari@kulusafaris.com sales@horathapola.com +94 71 533 8230 - Tharani